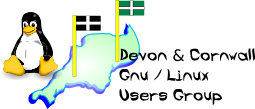 Devon & Cornwall Linux Users' Group
[ Date Index ][ Thread Index ]
[ <= Previous by date / thread ] [ Next by date / thread => ]
RE: Trolls & Public Apologies was Re: [LUG] My Own Observations Of Course
---
---


My sincere and humble apologies for some of the posts that I have issued  to
this forum lately. It would seem that I have upset some long standing and
well respected (by me) members of this community. I know from personal
experience that all of them have worked hard and contributed much to the
GNU/Linux community both near and far. I have no excuses for such behaviour
but only to say that what was posted was intended as a recruitment drive
initiative and discussion and not as a "trolling" exercise. I am a very
passionate person and sometime let this get the better of me.

These posts have on reflection been a projection of my own frustrations
based on a lack of personal progress. I will endeavour to keep my passion in
check in future. 

Tom.



Information in this message is confidential and may be legally privileged.
It is the intended solely for the person ( or persons) to whom it is
addressed. If you are not the intended recipient, please notify the sender,
and please delete the message from your system immediately. The views in
this message are personal, they are not necessarily those of Torbay Council



--
The Mailing List for the Devon & Cornwall LUG
Mail majordomo@xxxxxxxxxxxx with "unsubscribe list" in the
message body to unsubscribe.



---
Lynx friendly