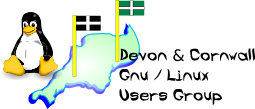 Devon & Cornwall Linux Users' Group
[ Date Index ][ Thread Index ]
[ <= Previous by date / thread ] [ Next by date / thread => ]
Re: [LUG] DC{G}LUG Meet Saturday
---
---
On Friday 24 September 2004 7:58, Matt Lee wrote:

ok, looks like I can make it, me + lappie + iso's inc mepis etc but no
burner...

is it 10.30 am start?




11, but there will be people there from about 10, i'd imagine. there's
a fair bit of kit still to be moved into the *MASSIVE* room we've got
for it.

bring cat 5 ethernet cables, plus any spare mice or keyboards you have.
If you have a monitor, that'd be great.



lmao

I ride a bike matey, if it doesn't fit into a laptop bag it doesn't go...

cheers

--
The Mailing List for the Devon & Cornwall LUG
Mail majordomo@xxxxxxxxxxxx with "unsubscribe list" in the
message body to unsubscribe.



---
Lynx friendly