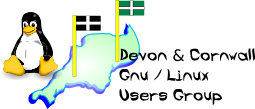 Devon & Cornwall Linux Users' Group
[ Date Index ][ Thread Index ]
[ <= Previous by date / thread ] [ Next by date / thread => ]
[LUG] Fedora 2, SWAT
---
---
Hi, is SWAT included with the Mag release of Fedora 2, as I can not find it.  
Reading between the lines it should install as SAMBA installs.

I have googled it and only managed to find a chap with the same problem?

I have SAMBA installed and running, it all works (ie both the windows machine 
and the linux can jump in and out of each others directories) except the 
windows box can see the Linux printer, but not get it to work.  If the win 
machine is booted as linux it can print off the linus machine, I assume using 
SAMBA as nfs is not running on the linux machine with the printer.

However that is not the question, can anyone confirm that Fedora 2s SAMBA does 
not include SWAT?

Thanks 

Peter

--
The Mailing List for the Devon & Cornwall LUG
Mail majordomo@xxxxxxxxxxxx with "unsubscribe list" in the
message body to unsubscribe.



---
Lynx friendly