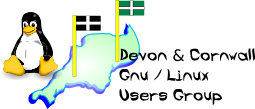 Devon & Cornwall Linux Users' Group
[ Date Index ][ Thread Index ]
[ <= Previous by date / thread ] [ Next by date / thread => ]
Re: [LUG] Indian version of Palm running embedded Linux
---
---
Brough, Tom wrote:
As an aside,



Most products in the palmtop category are designed to be information
providers rather than high volume data recorders. Years ago there was a
device that was portable that had six buttons spaced for the fingers (two
under the thumb one being a toggled caps lock). It was modelled on the court
recorder devices used in trials. Although there is a learning curve in
getting proficient and fast with the input, it was possible to use it (in
skilled hands) to record dictation in real time, alas the idea never caught
on and designers turned to using stylus type devices instead.


Sounds like the Microwriter, see http://www.old-computers.com/museum/computer.asp?st=1&c=558
The only time I ever saw one was being demoed on "Tommorrow's World".
Attachment: signature.asc
Description: OpenPGP digital signature
---
Lynx friendly