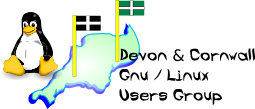 Devon & Cornwall Linux Users' Group
[ Date Index ][ Thread Index ]
[ <= Previous by date / thread ] [ Next by date / thread => ]
Re: [LUG] Crimbo Wishlist!
---
---
On Friday 05 Dec 2003 10:54 pm, lee quick wrote:
> Just a bit of fun,3 catogories for a Christmas wishlist.
> 1) Present from long lost V-rich Aunt/Uncle upto 10K
> 2) Possible if your in santas good books upto £100
> 3) Stocking filler under 30 notes.
>
> For me then ...
>
1. Purchase of a Morris Minor Traveller complete with disks, 1300 Ital, 
lowered, etc.... and if any money left carry on with repairs to my car. 
Traveller is for my wife!

2. I like the idea of annual subscription to LXF but also like the idea of a 
good Python book. Any recommendations?

3. Has to be railway bits and pieces. Currently building a bad taste model 
railway. i.e. Having a group of three boys by railway one with leg cut off - 
children it is not a playground! Trying to model a car so it is semi-steamed 
up with a pair of feet in window!!!

Enjoy your Christmasssssssessss....

Rich


--
The Mailing List for the Devon & Cornwall LUG
Mail majordomo@xxxxxxxxxxxx with "unsubscribe list" in the
message body to unsubscribe.


---
Lynx friendly