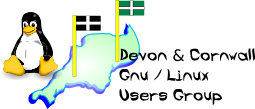 Devon & Cornwall Linux Users' Group
[ Date Index ][ Thread Index ]
[ <= Previous by date / thread ] [ Next by date / thread => ]
Re: [LUG] rant about mail clients
---
---
On Wednesday 02 Jul 2003 10:57 am, Neil Stone wrote:
> And while we are on the subject of evolution, does anyone know the
> secrets of getting it to sync with a PDA ? I can't get mine to sync at
> all !!!
>

No , neither can i. I have had no success with evolution and pda's.  KPilot 
works fine for me but nothing happens at all with evolution ( i driver msgs 
in syslog but thats it). It seem like evloutions pda support may be broken?

Robin

--
The Mailing List for the Devon & Cornwall LUG
Mail majordomo@xxxxxxxxxxxx with "unsubscribe list" in the
message body to unsubscribe.


---
Lynx friendly