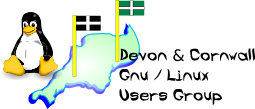 Devon & Cornwall Linux Users' Group
[ Date Index ][ Thread Index ]
[ <= Previous by date / thread ] [ Next by date / thread => ]
[LUG] Remote membership
---
---
Hi all. I`ve moved away from Cornwall but I`m still watching the list. I`ve been posting using Eurobells web mail but I`ve got the distinct feeling that it`s not working.
Can I post to the list using a web mail mailer or will it just bounce?.......I guess I`ll find out in a bit..........
Jon
-- The Mailing List for the Devon & Cornwall LUG Mail majordomo@xxxxxxxxxxxx with "unsubscribe list" in the message body to unsubscribe.
---
Lynx friendly