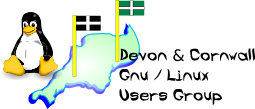 Devon & Cornwall Linux Users' Group
[ Date Index ][ Thread Index ]
[ <= Previous by date / thread ] [ Next by date / thread => ]
RE: [LUG] ip address
---
---
>===== Original Message From jon <jondavey@xxxxxxxxxxxxxx> =====
>Hi !, I'm back with this one again. We've worked out that my eth0 card isnt
>configured ( which should have been obvious to me due to the red FAILED
>warning on boot up...oops ) properly, thanks for the help so far, but on
>trying to configure it I'm stuck when asked for my ip address.  Is this just
>a case of getting a provider who asigns static rather than dynamic addresses
>?.

You should be able to set it to use DHCP (which configures everything 
automatically) Or are there other issues?



--
The Mailing List for the Devon & Cornwall LUG
Mail majordomo@xxxxxxxxxxxx with "unsubscribe list" in the
message body to unsubscribe.


---
Lynx friendly