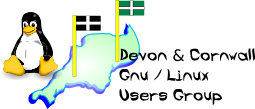 Devon & Cornwall Linux Users' Group
[ Date Index ][ Thread Index ]
[ <= Previous by date / thread ] [ Next by date / thread => ]
Re: [LUG] CD-CD copy --> Wiki, yes
---
---
-----BEGIN PGP SIGNED MESSAGE-----
Hash: SHA1

On Sunday 30 Mar 2003 6:15 pm, Jonathan Melhuish wrote:
> On Saturday 29 Mar 2003 2:29 pm, Adrian Midgley wrote:
> > Yes.  And be neatened up a little with other people's notes and
> > links to explanations of pieces of it if anyone thinks fit.

To keep the hints+page from getting ever longer, there's another page for disc 
related hints and tips, anything from CD->DVD->HD even floppy if anyone still 
uses them! Jonathan's tip has moved to the new page:

http://www.dclug.org.uk/wiki/?id=discs

I've added a few bits too.

- -- 

Neil Williams
=============
http://www.codehelp.co.uk
http://www.dclug.org.uk

http://www.wewantbroadband.co.uk/

-----BEGIN PGP SIGNATURE-----
Version: GnuPG v1.0.7 (GNU/Linux)

iD8DBQE+h0SCiAEJSii8s+MRAq+wAJ9cPt22THfkMAY5QHak1ACDhzVo+gCg4/aJ
MGPdIUJas6wgd2LmpnU9F1A=
=G4Ng
-----END PGP SIGNATURE-----


--
The Mailing List for the Devon & Cornwall LUG
Mail majordomo@xxxxxxxxxxxx with "unsubscribe list" in the
message body to unsubscribe.


---
Lynx friendly