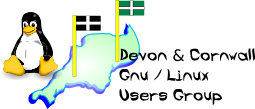 Devon & Cornwall Linux Users' Group
[ Date Index ][ Thread Index ]
[ <= Previous by date / thread ] [ Next by date / thread => ]
[LUG] modem woes
---
Subject: [LUG] modem woes
From: Steve Marvell <steve@xxxxxxxx>
Date: Fri, 30 Aug 2002 12:59:48 +0100
Content-disposition: inline
Reply-to: list@xxxxxxxxxxxx
---
Hmmm

So, I've been given this machine to be an office server and it's got
this ISA (not PnP) modem in it that works fine.

In order to get proper iptables to work, with proper NATting, I
install the 2.4 kernel image.

Now, the modem doesn't want to know.

For testing I use wvdial, before getting pppd working on
demand. wvdial just doesn't spot it at all. Total failure.

So, I just let it run with pppd. That dials fine but hangs up whilst
negotiating (ie. before any authentication).

It does this consistently.

Any ideas?

Steve

--
The Mailing List for the Devon & Cornwall LUG
Mail majordomo@xxxxxxxxxxxx with "unsubscribe list" in the
message body to unsubscribe.


---
Lynx friendly