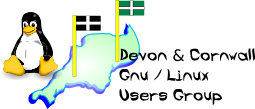 Devon & Cornwall Linux Users' Group
[ Date Index ][ Thread Index ]
[ <= Previous by date / thread ] [ Next by date / thread => ]
Re: [LUG] ORA UG Program(me)
---
---
Steve Marvell wrote:



btw

The D&C Perl Mongers have got user group status with O'Reilly.

It doesn't take much effort. Are DCLUG going to do it?



Apathy or rules overtook our application, I can't remember
which.

I think SWLUG are signed up to the same scheme as well,
certainly people should take a glance as I think it is quite a
large discount, but you can get similar discounts from other
places.

--
The Mailing List for the Devon & Cornwall LUG
Mail majordomo@xxxxxxxxxxxx with "unsubscribe list" in the
message body to unsubscribe.


---
Lynx friendly