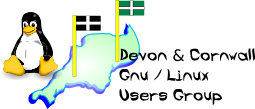 Devon & Cornwall Linux Users' Group
[ Date Index ][ Thread Index ]
[ <= Previous by date / thread ] [ Next by date / thread => ]
Re: [LUG] netowrk woes
---
Subject: Re: [LUG] netowrk woes
From: Steve Marvell <steve@xxxxxxxx>
Date: Thu, 15 Aug 2002 17:06:46 +0100
Content-disposition: inline
Reply-to: list@xxxxxxxxxxxx
---
On Thu, Aug 15, 2002 at 04:59:36PM +0100, Alex Charrett wrote:


Can you manually insmod the module?



I have no idea what to do at all.

It normally "just works". 

I checked dmesg for 0a:0b etc. and there was nothing.

Now I've no idea.

Steve

--
The Mailing List for the Devon & Cornwall LUG
Mail majordomo@xxxxxxxxxxxx with "unsubscribe list" in the
message body to unsubscribe.


---
Lynx friendly