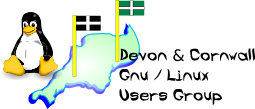 Devon & Cornwall Linux Users' Group
[ Date Index ][ Thread Index ]
[ <= Previous by date / thread ] [ Next by date / thread => ]
Re: [LUG] accountancy experience required
---
---
On Sunday 04 August 2002 10:37, you wrote:


where did you hear about the linux port?  i've searched through sage's
website but can see no mention.



Big Blue
http://www-1.ibm.com/businesscenter/uk/sb3ukpub.nsf/detailcontacts/SageD40B

(decimal point error as well, my apologies.  For line 50 read line 500
For supported by Sage read supported by IBM?
Whatever <grin>


-- 
From one of the Linux desktops of Dr Adrian Midgley 
http://www.defoam.net/             

--
The Mailing List for the Devon & Cornwall LUG
Mail majordomo@xxxxxxxxxxxx with "unsubscribe list" in the
message body to unsubscribe.


---
Lynx friendly