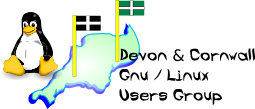 Devon & Cornwall Linux Users' Group
[ Date Index ][ Thread Index ]
[ <= Previous by date / thread ] [ Next by date / thread => ]
[LUG] ext resize
---
Subject: [LUG] ext resize
From: Kai Hendry <hendry@xxxxxxxxxxxxxx>
Date: Wed, 31 Jul 2002 20:40:32 +0300
Content-disposition: inline
Mail-followup-to: list@dclug.org.uk
Reply-to: list@xxxxxxxxxxxx
---


Can someone please tell me how I resize my / partition? I can't even
browse the web to find out howto do it as :

praze:/home/hendry# df -h
Filesystem            Size  Used Avail Use% Mounted on
/dev/hdc3            1004M  954M     0 100% /

I thought I managed to do it in parted, but obv. not:

Using /dev/hdc
Information: The operating system thinks the geometry on /dev/hdc is
13176/16/63.  Therefore, cylinder 1024 ends at 503.999M.
(parted) print
Disk geometry for /dev/hdc: 0.000-6485.062 megabytes
Disk label type: msdos
Minor    Start       End     Type      Filesystem  Flags
1          0.031    199.828  primary   linux-swap
2        199.828   6485.062  primary   ext3
(parted)

Regards,
-Kai Hendry

-- 
http://www.cs.helsinki.fi/u/hendry

--
The Mailing List for the Devon & Cornwall LUG
Mail majordomo@xxxxxxxxxxxx with "unsubscribe list" in the
message body to unsubscribe.


---
Lynx friendly