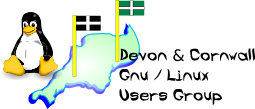 Devon & Cornwall Linux Users' Group
[ Date Index ][ Thread Index ]
[ <= Previous by date / thread ] [ Next by date / thread => ]
Re: [LUG] Lycoris
---
---
Adrian Midgley wrote:
http://www.msnbc.com/news/737744.asp?cp1=1


I had the pleasure of installing this distro,and it's ok there seems to be a proliferation of this
style of distro (lycoris/redmond) ELX and Lindows but i showed it to my MS using buddys and the reception was lukewarm at best.
What really floats the boat is the likes of Mandrake and/or Suse etc, stacked to the gills with packages and a huge variety of windowmanagers infact they particularly like anything which wildly differs from the windows look and feel.
Cut down distro's with simplified operation just don't appeal to them, what has got there attention is cd's and dvd's with 2500+ packages for less than the price of an Xbox game.

--
The Mailing List for the Devon & Cornwall LUG
Mail majordomo@xxxxxxxxxxxx with "unsubscribe list" in the
message body to unsubscribe.
---
Lynx friendly