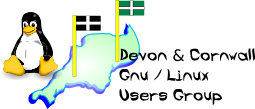 Devon & Cornwall Linux Users' Group
[ Date Index ][ Thread Index ]
[ <= Previous by date / thread ] [ Next by date / thread => ]
Re: [LUG] Open Office/Star Office dictionary format
---
---
Adrian Midgley wrote:



Has anyone looked at this?

There is a lot of material at the
Open Office site starting perhaps with
http://www.openoffice.org/white_papers/tech_overview/tech_overview.html
but how dictionaries for spell checking are stored hasn't leapt out at me yet.



Star Office used INSO code for some of this.

The dict and theosaurus use country code listed files (44_*) for
UK.

"strings 44_* | more" reveals various copyright and other
banners.....

Assume your interested in importing medical terms or some such?

--
The Mailing List for the Devon & Cornwall LUG
Mail majordomo@xxxxxxxxxxxx with "unsubscribe list" in the
message body to unsubscribe.


---
Lynx friendly