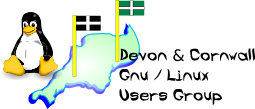 Devon & Cornwall Linux Users' Group
[ Date Index ][ Thread Index ]
[ <= Previous by date / thread ] [ Next by date / thread => ]
Re: [LUG] Building an exim rpm...
---
---


On Tue, 9 Apr 2002, John Horne wrote:


Okay. Is the package installed, or are you just building it? What does
'rpm -qpR exim...rpm' show?



Found it! The init script I was using for it started with #!/bin/s
oops.

Alex.


--
The Mailing List for the Devon & Cornwall LUG
Mail majordomo@xxxxxxxxxxxx with "unsubscribe list" in the
message body to unsubscribe.


---
Lynx friendly