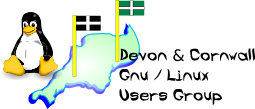 Devon & Cornwall Linux Users' Group
[ Date Index ][ Thread Index ]
[ <= Previous by date / thread ] [ Next by date / thread => ]
Re: [LUG] Mandrake 8.2 ?
---
---
My Mandrake Expert (Dave Barker in my flat) tells me the Mandrake that
just came out was 8.2 Beta 1, which is apparently not terribly stable.

If you still want acopy, we will utilise the superfast University LAN to
acquire the ISOs.

Regards,
Nick Murison



Well, the latest stable release then.. 8.1 ? would be great if you could.. 
Plymouth UNI ? 

Neil Stone


--
The Mailing List for the Devon & Cornwall LUG
Mail majordomo@xxxxxxxxxxxx with "unsubscribe list" in the
message body to unsubscribe.


---
Lynx friendly