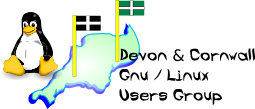 Devon & Cornwall Linux Users' Group
[ Date Index ][ Thread Index ]
[ <= Previous by date / thread ] [ Next by date / thread => ]
Re: [LUG] Cannot ./configure permission denied
---
---
On Wed, Nov 28, 2001 at 02:25:53PM +0000, Alex Charrett wrote:

> I'm curious, what do you think is the difference between "super user" and 
> "pure root".  I always thought they were the same thing.

Effective and Real UID is the distinction.

Steve

--
The Mailing List for the Devon & Cornwall LUG
Mail majordomo@xxxxxxxxxxxx with "unsubscribe list" in the
message body to unsubscribe.


---
Lynx friendly