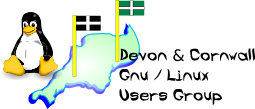 Devon & Cornwall Linux Users' Group
[ Date Index ][ Thread Index ]
[ <= Previous by date / thread ] [ Next by date / thread => ]
RE: [LUG] Kernel 2.5.0
---
---
>===== Original Message From John Horne <J.Horne@xxxxxxxxxxxxxx> =====
>Hello,
>
>FYI: just noticed a 2.5.0 kernel on the www.mirror.ac.uk site.
>
>


DONT GET IT!!!

2.4.15 (which is 2.5.0) has a major nasty bug that'll corrupt your file system 
on umount, apparently. Check the register and slashdot. Dunno if theres a fix 
yet.



--
The Mailing List for the Devon & Cornwall LUG
Mail majordomo@xxxxxxxxxxxx with "unsubscribe list" in the
message body to unsubscribe.


---
Lynx friendly